JP MAGIC WAVE 2022
BEST IN ALLROUND WAVE CLASS
JP proudly presents the Magic Wave! And what a board it is! An entirely new all-round wave board that combines and beats the best characteristics of our previous, all-time favourite wave designs. The Magic Wave draws from the speed of the Thruster Quad, versatility of the Wave Slates, ease of sailing of the Real World Waves. It also offers incredible speed and confidence on the wave, matching the performance of the Ultimate wave in most conditions, even in waves up to and over mast high.
Other rider quotes compared to other all-rounders:
• Much more reactive to turning off the front foot
• Miles more reactive and skatey turning off the back foot
• Sensitive to turning on just light toe pressure alone
• A bit twitchy until you get used to it, but that took only a few runs
• Fast and fluid on the wave face
• Quite settled in rough water considering its width
Extremely quick to get planing and reaching top speed, the Magic Wave pops over white water effortlessly and jumps extremely high. It offers both front and back foot wave riding possibilities, gaining speed and control from the advanced rocker shape, beautiful rails and wide, thin, ultra-high performance swallow tail.
Confidence, speed, comfort and grip on the wave all combine into a board that feels carvy and loose on the wave face, while still offering the essential speed needed for more onshore conditions.
Finally an all-round board which excels in mediocre conditions but does not compromise on wave performance. JP's most exciting introduction to the wave board market for many years.
The concept of a wider swallow tail board with an equally wide nose gave us a stable base for the new board. We worked tirelessly developing a new rocker for this board that is extremely fast without being too stiff on the wave. The very fast, early planing Wave Slate and the multiple award winning Freestyle Wave were good benchmarks. The new Magic Wave equals or betters the Wave Slate in early planing, low end, top speed, versatility and looseness on the wave. And its planing performance comes close the one of the Freestyle Wave.
Shaper Werner Gnigler followed a new path by disconnecting the centre scoop rocker line from the rail line. So, the traditionally known rocker along the centre does not exist anymore in the tail area. Werner combined V and concaves along the bottom which created a curvy rail line and resulted in the magic combination of fast, early planing boards with outstanding manoeuvrability.
The more parallel rail outline that we gain from the wider nose and tail really helps with early planing and keeping speed through white water. It also is easier to keep as much speed as possible through the bottom turn in onshore conditions and side-shore alike. You can use a smaller sail and feel less overpowered with this new design which makes wave riding and jumping feel much more comfortable and controllable.
Jumping is easier on this board because the wide nose and tail give more lift when hitting the wave, so you automatically jump a little bit higher. When you come down to land forward and backwards rotating moves, you have more board under your feet and at the nose which makes for a more forgiving landing.
The thruster fin setup grands the widest possible range of wave use and the 5-fin box setup enables tuning to personal preferences, giving the boards greater range of use from onshore to down the line conditions. Plugs are provided to cover the boxes when not used.
First feedback indicates that we have created JP's greatest all-round wave design yet. Excelling in onshore jumping and wave riding, the Magic Wave jumps higher and rides small to medium sized waves better than the Ultimate Wave but it doesn't stop there. It now holds its own in far bigger waves than you would expect, meaning that you can really choose 1 board for 90% of conditions and will almost never be under-gunned in big surf or lacking performance in small surf. Truly a magic board that we are very proud to have produced. Get out and try one for yourself.
Feel the magic!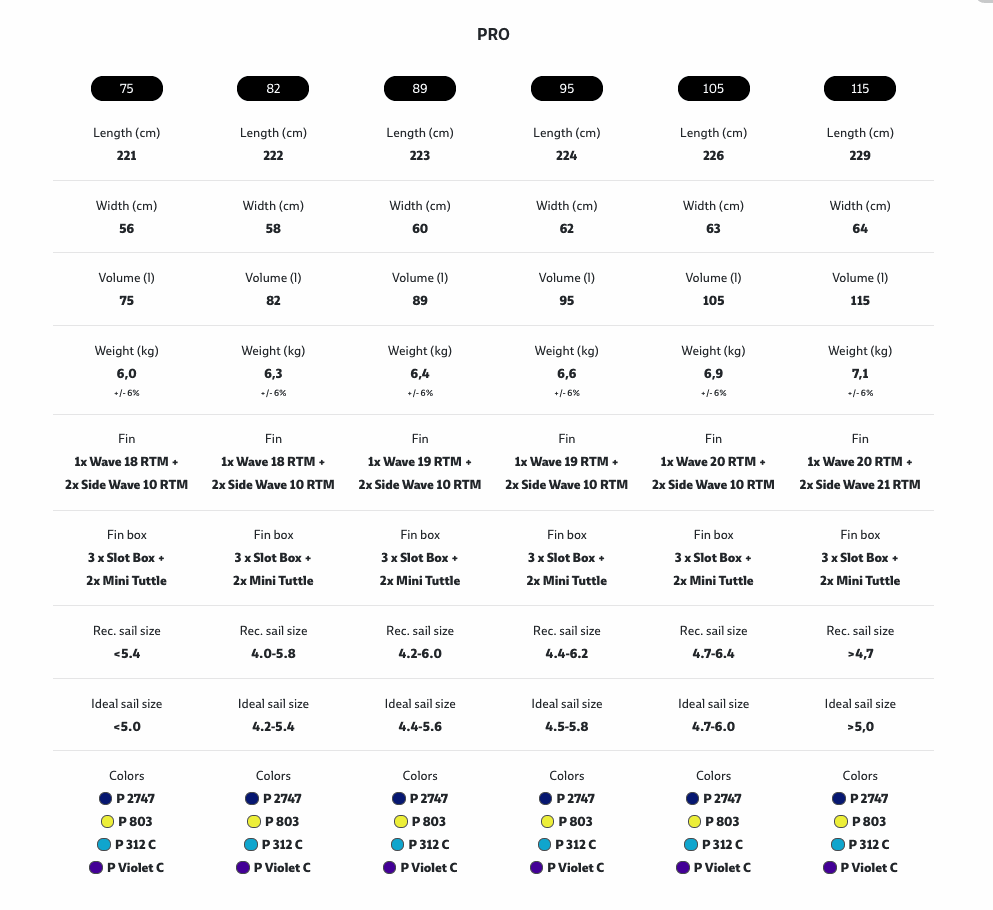 Esta es una vista previa de los productos vistos recientemente por el usuario.
Una vez que el usuario haya visto al menos un producto, este fragmento será visible.
Productos vistos recientemente